A wise man once said, "Thou shan't be caught dead with a cheap tactical backpack"
Okay, fine, we made that up, but you get the gist: you can scrimp on everything else, but you shouldn't even try to cut corners where your tactical backpack is concerned. 
Any self-respecting prepper or outdoorsman knows that a backpack is essential whether you're prepping for a disaster or gearing up for a good time outdoors. Your choice of gear can make or (literally) break the rest of your experience, so it's crucial to pick a tactical backpack that best fits your needs. 
In this comprehensive article, we pick apart 5 of the best tactical backpacks in the market today. If you're ready to know everything about these bad boys and make an informed decision before buying a tactical backpack, read on:
What Is A Tactical Backpack?
What makes a backpack tactical? Is it the material? The capacity? The tell-tale MOLLE panels?
The answer is yes…and no.
Sure, these bags can be made from stress-resistant, high-denier material and can be decked out with features like an extensive carrying capacity, hydration pockets, CCW compartments, MOLLE webbings, and the like, but these aren't the only things that make up a good tactical backpack.
In essence, tactical backpacks are basically bags that are especially equipped to help law enforcement, the military, emergency personnel—and yes—civilians like hikers, backpackers, and preppers carry out tasks effectively and efficiently. These bags allow easy access to important gear and are ideally designed to be comfortable even after long hours of wearing.
What To Look For In A Great Tactical Backpack
When choosing the right tactical backpack, you gotta set some standards. Here are some things that you should look for when choosing a good tactical backpack:
Purpose
Tactical backpacks come in all shapes and sizes and can take on many different roles. Like any great piece of gear, you gotta know what, when and where you're using your backpack for.
Bugging Out
Are you keen on getting a tactical backpack for bugging out? You might want to consider something durable but low-key so as not to attract any unwanted attention from the sheeple. A bag with easily accessible compartments and enough room for a 72-hour supply is obviously ideal, too.
Everyday Carry
If you need one for everyday carry, focus on a bag that's relatively light and compact; something that won't get in the way when you're commuting and is easy to stow away whether you're in an office or on the field. Look for compression straps that help expand or compress the bag as needed.

EDC bags don't have to be 50L monsters; a rucksack with a 20L capacity at the minimum will often do the trick. A backpack with various compartments (admin compartments for tools, eyewear pocket, laptop compartment, water bottle pocket) is also essential to help you organize your stuff with convenience.
Outdoors 
For outdoor activities like hunting, fishing, camping, or hiking, the bag's shoulder, hip, and sternum straps may be your top priority as you'll be spending most of the time carrying the pack on your back.

Look for a weather-proof bag made from material like polyester or nylon, and don't forget to check for drainage grommets and dirt-resistant bottoms while you're at it.

You might also prioritize the backpack's compatibility with a hydration system for longer hikes or excursions, as well as MOLLE webbings so you can conveniently attach gear like a flashlight or a pair of trekking poles.
Simply put: the best bag out there is the one that meets your needs to a T. Before going over the rest of the qualities below, make sure you already know what you're looking for to make your job easier.
Capacity and Organization
A tactical backpack's capacity refers to the total volume it can carry. Manufacturers often express these in either liters or cubic inches. The bigger the capacity, the more gear you can carry—but of course, that doesn't necessarily mean it's the best.
As mentioned earlier, the pack's capacity will also depend on how you'll be using it. 16-25L is usually enough for EDC and day trips, while long hikes or a full-on bug out situation may need a bag that can carry around 40-60L.
Check the compartments and how they're organized, too. Consider the ease of use and access to the bag's admin pockets, mesh pockets, and compartments for hydration bladders, laptops, or water bottles.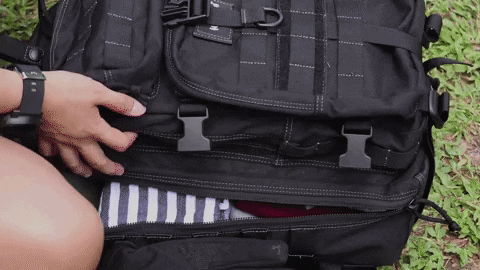 Some people love a bag with a lot of small compartments and modularities for all their gear, while others find a bag with one large compartment plus a couple of smaller ones better. Others prefer stuffing smaller kits (ie fire kit, first aid kit, toiletries, and the like) into a large compartment. That will ultimately depend on you and how you like to organize your gear.
A lot of great tactical bags have main compartments that can be opened all the way in a clamshell configuration so it's easier to organize your stuff. Others use a "tri-zip" opening for the same reason. Compression straps inside the main compartment aren't a must, but they do come in handy, especially if you want to keep your stuff securely in their place.
Durability
A tactical backpack is usually exposed to stressful environments, so it should be able to handle a lot of use and abuse. In determining the bag's durability, consider the following:
Material
Denier is the unit of measurement used to define the thickness of individual strands of fabric. The higher the denier, the thicker, heavier, and sturdier the material. On the flip side, fabrics with low denier tend to be smooth, silky, and easily prone to damage.
Most tactical backpacks are can easily clock in at 600-1100d, making them heftier, but stronger and more resistant to damage than ordinary rucksacks.
As far as material goes, polyester (400-600d) and nylon (700-1000d+) are most commonly used to make modern tactical backpacks.
Polyester is a synthetic fabric that's cheap, hard-wearing, and generally water-resistant. This material is known for being durable but lightweight, making it a popular textile choice for a lot of products, including seat belts, footwear, outdoor wear, and of course, tactical backpacks.
Construction
The material is only as good as how it's made, so make sure to check the backpack's overall construction. Nitpick every detail. Check the type of thread they're using (nylon is also best for this) and the quality of the stitches. A good tactical backpack must have reinforcements like double-stitching and bar tacks in vulnerable, high-stress areas such as the ones around the grab handles, around the straps, near MOLLE webbings, and the like.
As far as hardware like zippers are concerned, tried-and-trusted YKK zippers are considered the standard. These robust zippers come in all shapes and sizes, are self-healing, have tabs that do not pop off, and are guaranteed to never let you down (they haven't per our experience). A good tactical backpack usually sports reverse-coil zippers to prevent moisture from coming in through the zipper's teeth, keeping your backpack water-resistant.
Other things that you should look out for include the quality of the straps, buckles, grab handles, and inner mesh compartments.
Weight
Weight has always been a huge factor when choosing a good backpack—tactical or otherwise.
The average tactical backpack can easily weigh around 3.8-4 pounds. While this doesn't seem like much at first glance, it can easily contribute to the total weight of the pack when combined with gear and supplies.
That being said, you have to be strategic about the rest of the gear that you're gonna carry.
Ideally, a loaded backpack should not weigh more than 20% of your total body weight. For example, if you weigh 200lbs, your bag should ideally be no more than 40 lbs. Of course, this isn't a hard and fast rule—it's really more of a guideline on how to establish your pack's base weight. Once you know the ideal weight of your pack, you can then start planning on the type of gear you're going to carry.
Comfort
You'll most likely carry that backpack for hours on end, so make sure it's at least comfortable. Look for wide, preferably padded shoulder straps that distribute the weight evenly over both shoulders. You want the straps to be well-constructed and easy to adjust; stay away from anything that digs into your shoulders or chafes.
Contoured shoulder yokes are a matter of preference—some people hate them for being annoying, some people swear by them for their form-fitting stability. This bit is really up to you.
Padded and well-ventilated back panels help you stay comfy and relatively fresh out on the trail. Look for bags that use fabrics with wicking properties so they don't absorb the sweat from your back.
Sternum and hip straps secure the pack and help divert its weight to your lower body. Measure the length of your torso and your hips to make sure these features fit well when using the bag.
How We Did Our Tactical Backpack Review
Reviewing the best tactical backpacks out there ain't no easy feat. It took a couple of months for us to gather the data, test the bags, and put together this article. Here's a quick look at how we did our tactical backpacks review:
First things first: research. We put a good amount of time researching the best backpacks in the market today, scouring through hundreds of reviews, testimonials, and lists until we eventually narrowed our list to the top 5 best of the best. We wasted no time in ordering them (we buy all our reviewed gear ourselves).
Phase two was all about testing. We subjected these bags to all kinds of tests—filling them to full capacity, measuring their water resistance, checking out the compartments, testing their features—the works. And yeah, we might have kicked them around a bit. And rolled them down a hill (for, you know, science). We also put together a team composed of individuals with various frames and body types to test the bags' comfort level and ease of use.
Lastly, we took these bags for a hiking trip to further test their mettle.
The results?
Well, you'll have to find out for yourself.
Here are 5 of the best tactical backpacks in the market today:
Advertising and Affiliate Disclosure
We put a lot of effort into all of the content on tactical.com. We are able to provide this content for free because we earn money for advertisements on this site. We also earn small commissions for sales generated via our affiliate links. While these commissions do earn us income, they do not cost our readers anything additional. Clicking on our ads or links helps support our staff and we sincerely appreciate your support.