What Should You Look For In Tactical Gloves?
Before we dive into the good stuff, here's a little low-down on the factors that you should consider when looking for a great tactical glove:
What Are You Using It For?
First things first: what are you using those gloves for? There are tons of tactical gloves out there and each kind caters to a different need.
The best way to pick the right glove is to first zero in on your needs.
For example, if you handle firearms in your line of work or if you love to hunt, you'd need a glove that would allow you extreme tactility and dexterity when shooting. You might want to forego additional protective layers in favor of a thinner glove that gives your fingers sensitivity while on the trigger.
On the flipside, if you work outdoors or expect your hands to be pretty banged up, you might want to invest in a glove that has features like hard-shell knuckles or reinforced palm grips. Military, law enforcement or first responders need robust gloves that can protect them from cuts or fire, so Kevlar lining might be a huge factor to consider.
Once you've identified your needs, it would be way easier to come up with criteria and narrow down your choices in terms of material, protective features and the like.
Material
Tactical gloves can be made from a variety of materials like the following:
Synthetic fabrics: The most common synthetic fabrics include neoprene and nylon composites. These materials are known for their lightness, strength, and durability, as well as their moisture-wicking properties.
Leather: Other gloves are made from natural materials like goat hide or sheepskin. These types of animal leather are soft and yet durable, so they're great if you want to keep a low-profile glove that doesn't kill your dexterity.
Kevlar: A durable synthetic fabric primarily used in making bulletproof vests and the like. Gloves with Kevlar lining can generally withstand flames and cuts, making them slash- and scorch-proof.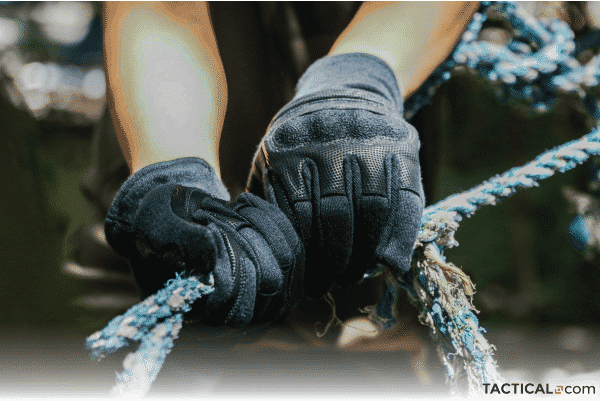 Protection
Aside from having Kevlar lining, some gloves sport additional protective features like padded or armored knuckles. These knuckle reinforcements can be made from materials like thermoplastic rubber, ballistic nylon or hard plastic.
Other protective reinforcements include paddings on the heel of the hand, on the index knuckles and trigger fingers to absorb force and pressure.
Fit
There's a reason why people use the phrase 'fits like a glove' to describe something that's got the right size and shape. If you pick one that's too small or tight, you'd risk impeding your mobility. Choose something too big and you'd have a hard time controlling your grip and movements, too. Thus, never underestimate the power of choosing the right size of glove.
It's usually a matter of trial and error. The glove has to close securely around the wrists, fit your hand comfortably and have little space around the finger areas.
Can't fit the gloves in person? Use a sizing chart. Most, if not all, glove companies have a sizing chart available for your reference, so if you can't test the gloves out in person, make sure to measure your hands first before ordering.
Durability
Your tactical gloves are meant to withstand a lot of use and abuse, so make sure they're durable. Don't just examine the material; you also have to consider the quality of the gloves' construction too.
Watch out for fraying ends and loose threads. Dodgy elastic cuffs and closures? Say pass. Pick a glove that has nice and strong double-stitched seams instead. Make sure that the wrist closures and velcro straps fit snugly, too.
Grip
A good grip is a non-negotiable, especially when you need to shoot. Some shooting gloves come with notches along the fingers for added flexibility. Other gloves have textured anti-slip features on the fingers and on the palms to improve grip.
Touchscreen Compatibility
Touchscreen devices like smartphones and tablets have now become a fixture in our daily lives. If you need to use a touchscreen device often, consider a glove that allows you to manipulate these gadgets with ease.
How We Did Our Review
As with all our reviews, our tactical gloves review began by searching high and low for the best products in the market today. We looked at dozens of online reviews, hung out at forums, and read hundreds of customer feedback before narrowing our list to the top 7.
Once we had the gloves in our hands, our editorial review team subjected them to a couple of rigorous tests. We also took the gloves camping, tested the Kevlar lining by making fires, and trying, in vain, to cut them open. Generally speaking, we wore these gloves out. You'll find the results of our testing below: