| | | | |
| --- | --- | --- | --- |
| | | | |
| | Primary Blade length: 2.9 in | | |
| | | | |
| | Primary Blade length: 2.9 in | | |
| | | | |
| | Primary Blade length: 2.6 in | | |
| | | | |
| Gerber Suspension Multi-Plier | Primary Blade length: 1.25 in | | |
| | | | |
| | Primary Blade length: 2.6 in | | |
| | | | |
| | Primary Blade length: 1.6 in | | |
| | | | |
| | Primary Blade length: 1.5 in | | |
A reliable multitool is a must for your everyday carry kit.
Whether you're using them for heavy-duty jobs or all-around household tasks, multitools can help you in a lot of ways. They're like a toolbox you can carry in your pocket, without the added weight and clunkiness.
Then again, not all multitools are created equal.
Due to their popularity, a lot of subpar multitools and other gadgets have sprouted left and right. How do you know which ones are the best and which ones are simply not worth your time and money?
We want to help you separate the chaff from the grain, so naturally, we dove into a comprehensive review to find the best multitools for everyday carry. We scoured high and low, found ourselves neck-deep into online forums and testimonials before selecting the top 7 multitools for your EDC kit. Once we had them on hand, we subjected these tools to some grueling tests.
The results of our testing and review are pretty interesting, so read on to find out which multitool ultimately deserves a spot in your EDC kit.


Types of Multitools
We mentioned it earlier: multitools come in various shapes and sizes. All of the tools on this list belong to the folding multitool variety. Still, it's always good to know the other types of multitools in the market. Here's a quick look at how multitools are generally classified:
Pocket Knives
You can consider pocket knives to be the original multitools. Made in the late 1800s, pocket knives were mostly used by European soldiers until they were made popular to civilians by Victorinox when the company came up with the Swiss Army Knife (SAK).
People who want something lighter and easier to carry prefer this type of multitool. A pocket knife can have a lot of practical tools without being too heavy, so it's good for outdoorsmen and backpackers.
Sure, it doesn't have pliers like your regular folding multitool, but it will save you a lot of space and weight.
Folding Multitools
It might come as a surprise to some, but butterfly-style folding multitools weren't around until Tim Leatherman invented them back in the 80s. We know--- it seems like they've been part of our lives for much longer than that.
What sets these multitools apart from pocket knives are its pliers. This function makes them popular among handymen, mechanics and the like. Because of their unique and versatile attributes, they're great for both heavy duty tasks and quick fixes. One can further classify multitools into the following categories:
Keychain tools

- as the name suggests, these tools are tiny and are meant to be carried around on keychains and fobs. Although solid and compact, they're relatively light compared to their full-sized counterparts and are ideal for small tasks.
Full-sized tools- these are the usual suspects when you look for multitools in general. These bad boys can range from lightweight ones that are more at home in your pocket or belt (like the Skeletool) to bulky, heavy duty ones that can take on more complicated jobs (like the 12.5 oz Leatherman Surge, which didn't make our EDC shortlist).
Others
Still, there are others who stray from the usual multitool design, like the following:
Credit card tools - like their namesake, these tools are flat and are roughly the same size as a credit card, so you can put them comfortably in your wallet. Some are made from stainless steel and are outfitted with tools like can openers, screwdrivers, and rulers. Other credit card tools are made of plastic and act as compartments to tools like pins, small scissors, and tweezers. You can't expect to do a lot of heavy lifting with these, but they're pretty handy when you need to do small repairs.
Wearables - yup, it's a multitool that you can actually wear. These usually come in the form of bracelets, belt buckles and sometimes, even hair accessories and rings.
What Makes a Multitool Great for Everyday Carry?
Before we dive into the reviews, it's important to set some criteria for judging to make sure that these tools fit the bill. In looking for the best multitool for EDC, we considered the following:
Weight and portability
An EDC multitool is something that you're going to have to carry all day long, so it has to have a comfortable weight. You don't want something too heavy on your belt or in your pocket, but it shouldn't be too flimsy either. For this review, we narrowed the selection down to multitools no heavier than 11 ounces. We ended up with 5 mid to full-sized tools and two keychain multitools.
Ergonomics
Aside from having a comfortable weight, the ideal EDC multitool must feel great in the hand as well. It should have an easy grip and be easy to use, preferably with reliable locking mechanisms, one-hand operations, and outside-accessible tools. Some people love the comfort of spring-loaded pliers, while some insist on having the versatility of standard pliers, so we tested both varieties.
Tool selection and overall functionality
The ideal multitool should have a great selection of tools. That being said, we're not looking for a multitool with the most bells and whistles. Instead, we're looking for one that has a sensible arsenal; something that has the right combination of tools that will allow you to work easier and faster. It's all about the quality, not the quantity. We want the tool to deliver and perform well in as many aspects as possible.
Durability
Like every EDC tool out there, the multitool should be able to withstand daily use and abuse. Whether you're using it for big projects or small jobs, it shouldn't let you down.
Price point
You don't want a multitool that would burn a hole in your pocket. That being said, we're looking for multitools with great price-performance ratios and warranty. Anything above $120 was automatically ruled out.
How We Did Our Review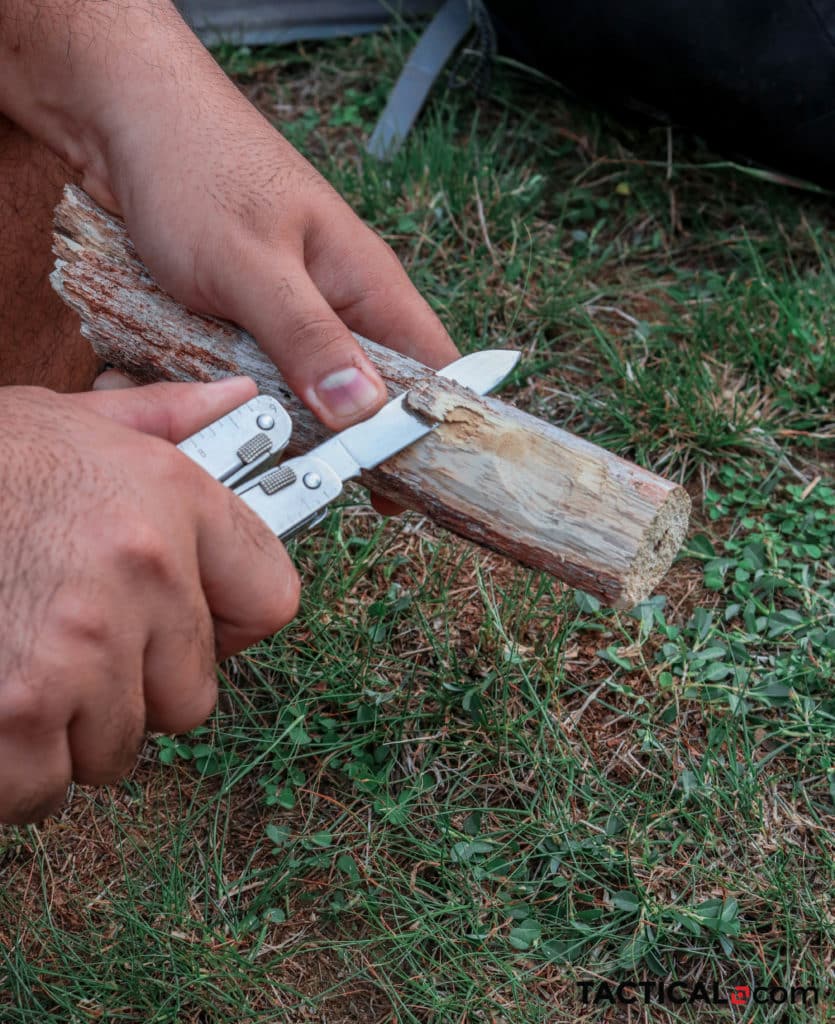 After selecting the top 7 multitools for EDC, we subjected them to grueling performance and endurance tests. Like our previous flashlight and water filter reviews, we spared no effort in testing these multitools.
Here's a little glimpse of how we did our testing and review:
Our testing team used the scissors and blades to cut through different materials like paper, cloth, nylon cords, zip ties, ropes and the like. We used the blades to cut and slice through various materials and used them to whittle and saw through wood. The wire cutters, strippers, and crimpers faced a variety of wires with different thicknesses and material (some were corded copper wires, others galvanized iron). The rest of the tools, such as the bit drivers, screwdrivers, and pliers were tested according to their respective functionalities.
Once we were done with the everyday-use tests we then took the multitools for a short camping trip, just to see how they would fare in an outdoor environment. We also subjected them to the required drop test (because who wouldn't?) to see who would survive. Thankfully, all of them did.
Note that all of the tools performed well. Some just did better than the others. Here's our review of the top 7 multitools for everyday carry:
Leatherman Wave+
Quick Specs:
Weight: 8.5 oz
Closed length: 4 in
Tools:
Needlenose and regular pliers

Replaceable wire and hard-wire cutters

Electrical crimper

Wire stripper

Straight-edge knife

Serrated knife

Saw

Spring-action scissors

Ruler

Bottle opener

Can opener

Wood/metal and diamond-coated files

Medium screwdriver

Large and small bit drivers
Pros:
Wide selection of tools, can be accessed from the outside

Sharp knife blades
Cons:
Doesn't come with a pocket clip
Earning the top spot on our list is the Leatherman Wave+, the latest iteration to the classic Leatherman Wave. The company has since retired their original bestseller back in 2004, but we're pretty glad that they came up with a nice replacement in its stead.
The Wave+ basically has all the functionalities of the original Wave; the only difference is that it's outfitted with replaceable wire cutters that are just as durable as its predecessor's.
There's a lot to love about the Wave+. First off, it's very handy. At only 8.5 ounces, the Wave+ has a nice reassuring weight without being too bulky. It comes with a nice sheath so you can carry it around with you all day. It's a shame that it doesn't have a pocket clip--- that would've made things a whole lot better.
The Wave+ feels great in the hand, thanks to the rounded corners of its handle. The edges are nice and smooth so it doesn't pinch your hands during use. The handles are functional and comfortable at the same time.
Next, it's got an excellent variety of tools. It basically has everything you need for day-to-day jobs, like the aforementioned wire cutters, two very sharp knife blades, a saw, wire crimpers and bit drivers, to name a few. Most of these tools can easily be accessed from the outside with one hand, making the Wave+ very easy to use.
All of the tools lock securely in place as well. We simply love Leatherman's locking mechanism. The linerlocks aren't only ergonomic, they're also incredibly discreet and blend seamlessly with the multitool's overall design.
We gotta say, the Wave's blades are just a cut above the rest (see what we did there?). Both knife blades and the saw are 2.9 inches long and are wicked sharp out of the box. They're not full-sized blades, sure, but they do an excellent job without further sharpening. Both knife blades can cut and slice through various cordage with ease. The saw is arguably the best one in this list; it is solid, compact and has fine teeth that can easily saw through wood and other materials.
The scissors are spring-loaded and are as sharp as the blades, too. Cutting through various materials like nylon, zip ties, and fabric was a walk in the park.
The Wave+'s needle nose pliers have a more narrow point compared to its bigger peers (such as the Victorinox Swisstool X, which we review below), but they can hold their own just fine. They're actually pretty versatile, doing great in both detailed and heavy-duty tasks.
The Wave+ comes with full-sized bits, as well as small bits for more minute tasks. Both bits are double-sided so you can easily switch them out depending on your needs. We initially had doubts if the small bit driver can hold out because it was thin like a pencil lead. Eventually, we found that it does really well, especially for detailed tasks like fixing eyeglasses and the like.
At a little under $90, the Wave+ offers solid workmanship and a great selection of functional and ergonomic tools. It performed so well that the only thing that would make it better would be a pocket clip. If you want an EDC multitool that has virtually everything you need, the Leatherman Wave+ is your best bet.
Victorinox Swisstool X
Quick Specs:
Weight: 11 oz
Closed length: 4.5 in
Tools:
Regular and needle-nosed pliers

Regular and hard wire cutter

Knife blade

Scissors

Wood and metal saw

Reamer, punch

Can opener

4 flat screwdrivers (2 mm, 3 mm, 5.5 mm, 8 mm)

Phillips screwdriver

Bottle opener

Wire bender

Crate opener

Chisel

Wire stripper

Wire scraper

Ruler (in and cm)

Lanyard hole

File
Pros:
Wide variety of tools

Blades are large and sharp

Robust, great for heavy duty tasks
Cons:
Right on Leatherman's heels is the Victorinox Swisstool X, a heavy-duty multitool from the creators of the Swiss Army Knife.
It's pretty hard to find fault in a Victorinox tool in terms of overall quality and design, but you gotta admit, this one is pretty pricey and a tad bit heavy for an EDC. This is why it landed on the second spot instead of the first. Other than that, the Swisstool X did spectacularly on our review and testing.
At 11 oz and 4.5 inches when folded, the Swisstool X is the heaviest and biggest multitool on this list. This is both a curse and a blessing. On one hand, some people might not be comfortable with carrying something so hefty in their EDC kits. On the other hand, the Swisstool X is like an entire toolbox. With 24 functional tools, you probably won't need to carry anything else.
The Swisstool X's pliers are bigger and thicker than the rest, so you can use them for more extensive tasks. The same goes for its wire cutters: they're more robust and have a bigger bite, so they're able to cut through various wires with ease. You can use and abuse the Swisstool X for everyday tasks without worrying that it would break.
Another great thing about the Swisstool X is its number of tools. While it doesn't have interchangeable bits, it does have 4 flat screwdrivers of different sizes and a large Phillips screwdriver. It also has a file, chisel and a sharp pair of spring-action scissors...and that's just to name a few.
The Swisstool X has three cutting tools: one straight-edge blade, one serrated blade and one saw. The primary blade is almost 3 inches long and, like the Wave+, insanely sharp out of the box. You can use them to do various tasks like whittling feathersticks and cutting and slicing through cordage without further sharpening.
Perhaps the downside is that not all of these tools can be opened or operated with one hand. The tool's a bit too bulky for one-hand operations. The upside is that they all lock securely in place. Boy, do we love the lock on the Swisstool X. You can find it at the bottom of the handles when opened and it looks like a classy accessory that adds charm to the whole design of the tool.
Despite its weight, the Swisstool X still manages to look sleek and sophisticated. We reckon that its surface is shiny enough to signal for help.
All in all, the Swisstool X is a robust and reliable multitool. It might not be the lightest nor the cheapest tool out there, but it sure is worth the money. This is your go-to tool if you don't mind spending extra on more functionalities and don't mind the additional ounces, either.
Leatherman Skeletool
Quick Specs
Weight: 5 oz
Closed Length: 4 in
Tools:
Needlenose and regular pliers

Regular and hard-wire cutters

Combo knife (straight and serrated)

Carabiner/bottle opener

Bit driver
Pros:
Lightweight and compact

Ergonomic grip

The knife is easily accessible with one hand
Cons:
Some may find the tool selection limited
Third on our list is the minimalist Leatherman Skeletool. Clocking in at only 5 ounces, this is your multitool of choice if you want something basic yet functional.
Looking at the Skeletool, you'll first notice its unique and minimalist design. It doesn't look very comfy at first glance, but actually holding and using the tool will tell you otherwise. The grip is surprisingly ergonomic. It's lightweight and feels great in the hand. The Skeletool also comes with a replaceable pocket clip so you can stow it away easier.
Because of its weight and design, we observed that this multitool can also be great for backpackers and ultralight campers.
As far as tool selection goes, the Skeletool only has a pair of needlenose and regular pliers, wire cutters, a combo knife, a carabiner that doubles as a bottle opener and a large bit driver. That's it! This arsenal doesn't sound like a lot, especially if you compare it with the Swisstool X's 24 tools, but Leatherman makes up for it with the Skeletool's no-nonsense functionality.
The tough-as-nails 420HC knife blade is a combo---it's both plain-edge and serrated, making it great for both slicing and cutting through tougher material. Some people generally dislike combo knives and if you're one of them, don't worry. The Skeletool does its cutting and slicing jobs beautifully.
The best part about the knife is that you can easily access it from the outside with a simple flick of your thumb. It conveniently locks securely in place, too, so you don't have to worry about accidentally swinging it loose. Like every Leatherman tool out there, the Skeletool is outfitted with liner locks, which allow you to put the blade away with one hand as well. This feature conveniently saves you time and energy.
The Skeletool's pliers are smaller than the others on this list, but they can hold their own; they cut through our 2mm and 2.5mm corded wires pretty easily with one hand. The 3rd wire (5.5 mm) understandably needed a bit more force, but the Skeletool pulled through, nonetheless.
The Skeletool's bit driver can be accessed if you partially open the device. You get two dual-ended bits: a square drive and a Philipps, with different sizes on each end. The tool also comes with a compartment for the spare bit so you can switch them out as needed. We love this extra touch. It gives the otherwise basic tool selection a bit of versatility.
The carabiner is great if you're backpacking or camping. We used it to carry a bunch of accessories during the short camping trip and it performed really well. It doesn't hurt that the carabiner also doubles as a bottle opener. Of course, if you had to put only 7 tools in a compact device, a bottle opener is non-negotiable.
In conclusion, the Skeletool is a straightforward, no-nonsense tool great for everyday carry. Since it's lightweight, you can also take it with you when camping or hiking. It won't be able to do as many jobs as the Wave+ or the Swisstool X, but it is easier to carry and use. If you want a basic multitool that can be carried anywhere, the Leatherman Skeletool is your tool of choice.
Gerber Suspension Multi-Plier
Quick Specs:
Weight: 9 oz
Closed Length: 3.5 in
Tools:
Spring-loaded regular and needle nose pliers

Wire cutter

Tool locks

Fine edge and serrated blades Large and small flathead

Cross driver

Saw

Can opener

Scissor

Lanyard

Bottle opener
Pros
Affordable

Lots of outside-accessible tools
Cons
Blades are short and not very sharp
In fourth place is Gerber's Suspension Multi-plier. It was a close fight between this and the Leatherman Wingman, but after considering the number of tools and price point, the Suspension eventually won out.
Let's talk about the Suspension's looks for a bit. Gerber has a way of designing their tools to look extra badass, and the best example of this is the Suspension Multi-plier. Between the rugged, open-frame handles and its titanium coating, the Suspension looks every inch a "tough guy tool".
We just wish its blades performed like tough guy tools as well. See, we found the Suspension's blades to be a bit of a bust. Allow us to explain:
This tool had three blades: a straight-edge blade, a serrated one, and a saw. First off, these blades are smaller in proportion to the rest of the tool. Actually, they're the smallest blades among the full-sized multitools in this list. Our second observation is that none of the cutting tools are very sharp out of the box. The knife blades barely passed our cutting tests, and they did so with a lot of difficulties.
The saw has really big, clunky teeth that had little to no bite at the beginning of the test. It's got big serrations that are best for coarser woodwork but doesn't have the finesse nor the sharpness of the Leatherman Wave+ or the Swisstool Spirit X.
The upside is that the rest of the multitool seems to function great.
The pliers are spring-loaded, which kind of balances the bulkiness of the handles. The wire cutters are robust and can easily handle tough wires and material. Its scissors work the same: they're large and unlike the knives, thankfully sharp enough.
What we liked most about it is that many of the tools can be accessed from the outside. All of them securely lock in place using Gerber's patented Saf.T locking mechanism. Sure, it's not as subtle as Leatherman's linerlocks, but they work just fine. You might need long nails to access the tools, but as far as functionality goes, they do their job pretty well.
It has a somewhat limited selection of screwdrivers and does not have removable bits. But at only $38, this is not a big issue. Actually, at $38 you can get a lot if you decide to get yourself the Suspension.
All in all, the Suspension is pretty functional and affordable. It's just a shame that its blades aren't as sharp as expected. If they were, we'd be ready to give this Gerber tool a higher rank in our review.
Leatherman Wingman

Quick Specs:
Weight: 7 oz
Closed length: 3.8 in
Tools:
Spring-action needlenose and regular pliers

Spring-action wire cutters

Wire stripper

Combo knife

Scissors

Package opener

Ruler

Can and bottle opener

Wood/metal file

3 screwdrivers (Phillips, medium and small flathead)
Pros
Affordable price

Lightweight

Spring-loaded pliers
Cons
Combo blade is not sharp out of the box

Limited selection of outside-accessible tools
At only 7 oz and 4 inches, the Leatherman Wingman is a great EDC multitool that has the best of both worlds. It's got the Skeletool's compact, lightweight body but has a wide variety of tools, like the Wave+.
The kicker is that unlike its more expensive cousins, the Wingman only costs under $50.
People who love to have more control when doing small, detailed jobs will love the Wingman, as it is one of the few multitools in this list with spring-action pliers. Doing tasks with one hand is a breeze.
The Wingman's handles don't come with the Wave+'s rounded edges or the Skeletool's lightweight, ergonomic feel. They might pinch a bit, but it's a relatively small issue in the grand scheme of things.
Now, pulling off a relatively affordable device with this many tools means that compromises have to be made. We found a couple of them in the Wingman's wire cutters and blades.
First, the wire cutters don't have the finesse of the Wave+. While they're quite robust, they also don't have a very sharp edge, so it had some difficulty going through the thicker corded wires.
Next, the Wingman has a combo knife instead of two separate blades. It's capable of cutting through various cordage and material, but it wasn't as sharp as the rest of the Leatherman lineup.
Perhaps our biggest gripe with the Wingman was its scissors. We had a bit of difficulty using the scissors during the initial part of the testing because they didn't "spring into action". We later found out that for the spring-loaded mechanism to work, you have to fully lock the scissors in place, otherwise, they'll just flop around. We eventually got them to work properly after a bit of tweaking, but it really would have been better if they worked from the get-go. On the upside, the scissors are large, sharp and can be easily accessed from the outside.
The Wingman doesn't have changeable bits, but it does have a couple of screwdrivers which can be accessed when you fully open the tool. You don't get the same versatility, but they are solid and great for most heavy duty tasks. One of the flathead screwdrivers doubles as a small ruler that one can use to measure small accessories like bits or screws. We just wish that it had more outside-accessible tools.
Although the Wingman's tools didn't perform as well as the Wave+, it does have a cheaper price point. For $50, you can have a functional tool that's both lightweight and capable of doing everyday jobs pretty well. This is your tool of choice if you're looking for an everyday carry tool that won't hurt your wallet.
Leatherman Squirt PS4

Quick Specs:
Weight: 2 oz
Closed Length: 2.25 in
Tools:
Regular and needlenose spring-action pliers

Spring-action wire cutters

Combo knife

Spring-action scissors

Flat/Phillips, medium screwdriver

Bottle opener

Wood/metal file
Pros
Sharp cutting tools

Solid build
Cons
Relatively high price point
As we mentioned earlier, we included two keychain tools in this list: the Leatherman Squirt and the Gerber Dime. After testing, one won out over the other...and we're actually not that surprised that it's the Leatherman Squirt.
The Leatherman Squirt is a keychain tool that's no heavier than a couple of ounces. It's packed with 9 tools, including a pair of spring action pliers that work pretty great for its size and a pair of sharp, albeit tiny, scissors. Since this keychain tool is spring-loaded, you can use for small, detailed tasks, like manipulating thin GI wires and the like. We don't recommend using their wire cutters for tougher jobs, though.
What we love about the Squirt is its matte grip and compact build. Even though it's considerably smaller than most multitools in this list, it still feels solid and reliable. It doesn't feel flimsy or awkward to use, even if you have big hands.
Another great thing about the Squirt is that most of its tools can be accessed from the outside. These tools include a sharp pair of scissors that can cut through various material like zip ties, paper, and nylon cords. Since the scissors are pretty small, though, it wasn't able to get through some of the thicker types of cordage that we had for testing. Thankfully, the small but sharp knife blade can step in to do slightly tougher tasks like cutting through cordage and whittling.
Aside from the cutting tools, you also get two screwdrivers: one is a medium flathead and the other is a small Phillips/flathead combo. Again, don't expect them to do heavy duty stuff, but they do hold their own. You can use them to do basic tasks like unscrewing battery covers, assembling model toys, fixing eyeglasses and the like.
We love the Squirt's file. It's two-sided and is considerably longer than the Dime's.
Overall, the Squirt proved that even small keychain tools can come in high quality. In the battle of small, keychain tools, this clearly won over the Gerber Dime, which we'll review in detail below.
Gerber Dime

Quick Specs:
Weight: 2.2 oz
Closed length: 2.75 in
Tools:
Spring-loaded regular and needlenose pliers

Wire cutters

Tweezer

Bottle opener

Fine edge blade

Package opener

Scissors

Medium flat head driver

File (coarse and fine)

Cross driver

Lanyard ring
Pros
Affordable price point

Many outside-accessible tools
Cons
Blade is small and not sharp

File is small
The other keychain tool in this list is the Gerber Dime. It's slightly bigger and heavier than the Leatherman Squirt, but they essentially belong to the same category. Like the Squirt, the Dime is compact and solid. The tool has a lanyard ring so you can stow it away on a keychain but at 2.2 oz, we found it to be a bit heavy to put on a fob or an actual keychain. However, it fits nicely in an EDC kit, pocket or glove compartment.
There are parts of the Dime that we loved, and there are parts that didn't impress us much.
Let's break down the pros and cons of the Dime, starting off with the good parts.
First off, the Dime has more tools than the Squirt, and we love the fact that most of them can be accessed from the outside. They don't lock in place like a full-sized tool, but the tools stay in place firmly. This keychain tool's hinges are lubricated, too, so they open smoother.
We love the quirky little package opener; it's not part of the usual multitool selection but we found it to be quite useful and functional. It's tiny but it can sure tear through packages and sealed boxes without a hitch.
Another unexpected addition to the Dime's arsenal is its tweezers. They're hidden in a small compartment on one side of the tool and although they're made from a pretty thin material, they do their job just fine. They're great for pulling splinters, grooming, and other tasks.
The spring-action pliers aren't so bad, either. Again, since the Dime is not a full-sized multitool, don't expect it to do a lot of heavy lifting in the pliers department. They're tapered at the end, so they're good for a lot of small, detailed jobs.
Now, for the things that we didn't like.
Like its bigger counterpart, our major gripe about the Dime is its cutting tools. We imagine that they're what regular Joes and Janes would use most on a daily basis, so we wanted them to perform well. Unfortunately, they ended up disappointing us in a lot of ways.
The spring-action scissors and the wire cutters were not as sharp as expected. They didn't cut through most of the materials that we subjected them to. The scissors couldn't cut through the cords and the wire cutters couldn't make it through the thinnest materials either. The knife is broader but shorter than the Leatherman Squirt, but it wasn't much use in cutting through cordage.
The Dime's file is really short too. It's so short, we doubt that you can use it for a lot of purposes.
And lastly, while the black finishing gives the Dime a tough look, we soon found out that it chips away after extensive use.
Overall, the Dime looks good and feels great in the hand for a keychain tool. It's just that its cutting implements are literally not the sharpest tools in the shed. For that reason, we'd pick the Leatherman Squirt as our keychain tool of choice.
Final Thoughts
Based on our testing and observation, the Leatherman Wave+ emerged as the clear winner. The Wave+ is packed with the wonderful selection of tools, it's just the right weight and comes at a relatively affordable price point. What we loved most about it is its comfortable grip and wonderfully sharp cutting tools. Its functionality is pretty indispensable for everyday tasks.
The Swisstool Spirit X looks and works great, but it does weigh significantly more. A lot of people may find the additional weight cumbersome. On the flipside, it would be a great choice for people who don't mind a spending more money on a heftier tool.
The runners-up on this list are the Leatherman Skeletool, Gerber Suspension, and Leatherman Wingman, coming in at third, fourth and fifth place respectively. These three tools did well enough as EDCs but they didn't really stand out like our top two picks.
Finally, we have the Leatherman Squirt as our choice keychain tool. Going head to head with the Gerber Dime, we found that the Squirt had a lot more to offer in terms of functionality and overall design.
Choosing the best multitool for your EDC kit will ultimately depend on your personal preference and budget bracket. With so many multitools out there, we hope that this review was helpful in narrowing your choices down.
What's the best multitool that you've ever used for everyday carry? Let us know in the comments below!