2021 is in, and prepping is on the rise. People left and right want to secure their futures from unpredictable pandemics and emergencies and other disasters.
Aside from prepping your bug out bag, choosing the perfect bug out location (BOL), and planning how to get there, you might want to consider a bug out vehicle or a BOV to secure safe transport— and arrival— for you and the family.
2021 isn't just the year for planning your supplies; it's also the year to check the best bug out vehicles on the market.
What to Look for in Your BOV
If you're reading this, then it means that you've done your research on bug out vehicles. You might have even read our beginners guide to BOVs.
Now that you have a basic idea of what you want from your BOV, let's go a little bit more in-depth with it. Here's a list of questions you can ask yourself when checking out a BOV:
Can it go long-distance?
Your bug out location (BOL) won't be 2 minutes away. There's going to be some distance between your home and your BOL. And on a SHTF day or emergency, there'll be detours to take, roadblocks to consider, and more. Make sure your BOV can last a long ride.
Does it have a large storage capacity?
This is something you'll want to heavily consider if you want to store some extra supplies or your BOV emergency kit.
Can it go fast and go off road?
When the going gets tough, the roads might become impassable. You'll have to go off road to get to your BOL. Make sure your BOV has off-roading capabilities.
Does it have easily replaceable and available parts?
Parts should be easy to find and buy. You don't want a BOV with a lot of unique parts because it'll be useless without readily available spare parts if it breaks down.
Does it have towing capabilities?​
Being able to tow other cars and trailers is a trait most BOVs should have. If your group has two BOVs and one breaks down on the road, you can easily tow it with you to safety. Aside from that, it's also handy when you wanna hook up an extra trailer to your BOV to haul supplies.
Does it have an auxiliary tank?
If it doesn't, can you add one? A full tank of gas is good, but an extra tank as a backup will be great.
Is it in a dark color?
You don't want to be driving around a brightly colored BOV that will garner attention. You'll want something in a dark tone to keep things on the down low.
Bug Out Vehicles to Consider Getting
The automotive industry is ripe with hundreds of great cars available for sale. But for a BOV, we have to get the best of the best.
Here are some of our top picks for BOVs this 2021:
Earthroamer LTi
Photo: Earthroamer
Dubbed as the peak of RV innovation, the Earthroamer LTi is a sight to behold and any prepper's dream. It can act as a BOV and a BOL at the same time and is perfect for situations where you need to leave the safety of your home and hold the fort down in a forested area instead. There's no need to unpack your supplies as everything you need is in the Earthroamer, from a mini kitchen to sleeping quarters to a bathroom. If you've got older members of the family, then this will be a good and safe bet for you and your group. On a normal day, though, camping and going on road trips with the Earthroamer LTi is just as good.
Some things we love about the Earthroamer:
The completely carbon fiber body
Rooftop solar panels
Turbo diesel engine that is powerful and efficient
Customizable and made to order
All-weather capable
Things that might turn you away from the Earthroamer:
Extremely pricey
Definitely gains attention
A bit big on the road and won't be able to get into narrow places
Difficult to hide
Ford Explorer
Photo: Ford
Renowned and reliable, the Ford Explorer is a great choice for a BOV. It can carry 4 people and still have enough room to store supplies in. The Ford Explorer has decent mileage on it, which makes it a top choice as a BOV.
Some things we love about the Ford Explorer:
Good off-road capabilities.
It has a good carry capacity, and you can add a roof rack.
Has good towing capabilities and capacity.
It can easily be customized to suit your wants and needs in a BOV.
Things that might turn you away from the Ford Explorer:
It might not survive an EMP attack unless you completely switch out the engine.
Big in size, and it might have trouble fitting through narrow places.
Can't go extreme off-roading or handle extreme terrain.
It doesn't have the best fuel efficiency, especially when loaded.
Ford F-150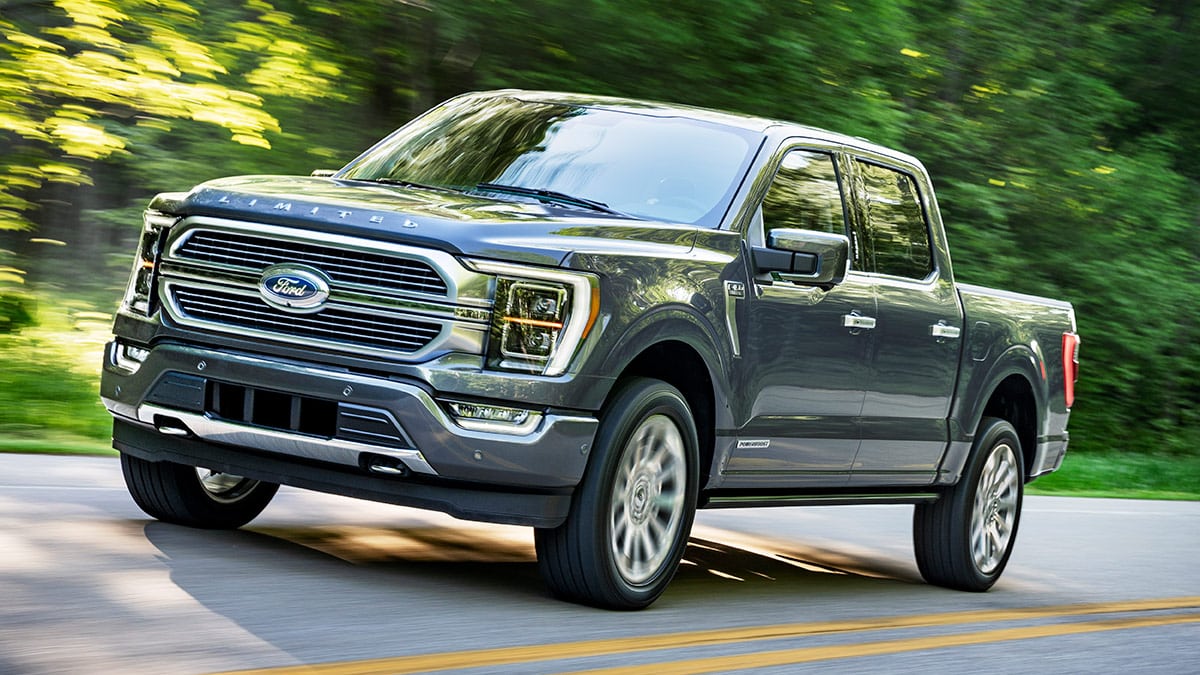 Photo: Ford
If you want a 4×4 truck for a BOV, then go for the Ford F-150. It's a pretty popular truck in the USA and has been selling like hotcakes since the 1970s. One look at it, and it's not hard to see why. All in all, it's the best pickup truck to turn into a BOV.
Some things we love about the Ford F-150:
Due to how popular a truck it is, spare parts are easily available.
Has a strong engine.
Excellent off-roading capabilities.
Spacious truck bed for storage.
Things that might turn you away from the Ford F-150:
Not exactly fuel-efficient.
Jeep Wrangler
Photo: Jeep
On the list is the ever-popular Jeep Wrangler. It's a prevalent choice as a BOV, and with good reason. The Jeep Wrangler is made to be an entirely off-road capable vehicle, able to cross muddy fields with ease and even some light stream and river crossing. It can even traverse sandy deserts, places where ordinary cars would sink. Plus, it's such an iconic car that everyone just falls in love with.
Some things we love about the Jeep Wrangler:
Amazing off-roading capabilities.
It can fit four to five people.
You can add your own personal touches and accessories for an even better BOV.
Things that might turn you away from the Jeep Wrangler:
Since it is easily recognizable, it might get unwanted attention and has a higher chance of getting broken into.
There's a lack of engine options.
The Jeep Wrangler is known to be noisy on the road.
Difficult to sleep in.
Chevy Suburban
Photo: Chevrolet
If you want space, then look no further than the Chevrolet Suburban. It's probably the roomiest SUV out there, making it a great BOV to transport family AND ferry supplies. It's a sound choice if you want a trustworthy BOV to get the job done.
Some things we love about the Chevrolet Suburban:
Very roomy for passengers.
 Big cargo space.
It has great power to drive over rough terrain.
Good towing capability.
Things that might turn you away from the Chevrolet Suburban:
Poor mileage.
Will have trouble fitting into tight spaces.
The high cargo liftover makes it difficult to load up bulky items.
Toyota Tacoma
Photo: Toyota
From Toyota, the Tacoma comes out as one of its best outdoor utility vehicles. It's made and built to do more than the average SUVs Toyota has on its roster. It's also a lot cheaper than other Toyota models.
Some things we love about the Toyota Tacoma:
Good towing capability.
It can carry a lot of things.
Can handle difficult terrain.
It's built to last.
Things that might turn you away from the Toyota Tacoma:
The truck bed might be small for some people.
Knight XV
Photo: Conquest Vehicles
The Knight XV from Conquest Vehicles is a top-of-the-line, ultra-luxurious armored SUV. It's made to take on big threats on the road and survive over and over again. If you live in the city, then this urban assault BOV might be for you.
Some things we love about the Knight XV:
Has great security features like night vision cameras, external smoke screens, run flat tires, and thick armor.
Spacious interiors.
Things that might turn you away from the Knight XV:
Pretty expensive.
Doesn't have that many sustainable features pre-built.
A limited number of units available.
Sportsmobile Classic 4×4
Photo: Sports Mobile
Think a repairman's cargo truck turned into a dependable BOV, and you've got the Sportsmobile Classic 4×4. This BOV has a Ford Cutaway body built with a fiberglass shell, steel reinforced for a streamlined look. As for the technical side, just know that this build is no joke.
Some things we love about the Sportsmobile Classic 4×4:
It has well thought out living quarters.
Built for that off-grid van life and offroad terrain.
Beefed up with a lot of quality parts and accessories.
Things that might turn you away from the Sportsmobile Classic 4×4:
Looks like a repairman's truck.
It might stand out on the streets.
It might have trouble on some off road trails due to its size.
Final Thoughts
Whatever you choose for a BOV, choose the BOV that fits your needs and work from there to find the best one. Whether you get a 2nd hand one or a brand new vehicle, remember to plan everything down to a T to make the most of your chosen BOV.
What BOV do you have in mind, and is it on our list? Let us know in the comments section below!